To customers with limitations of time and distance
Experience our online viewing!
Suggested to all those customers
– Which cannot come to Japan bride the check in
– Which cannot attend a visit in person
– Who wants to minimize costs of traveling
– Who has a limited time schedule
The online viewing flow
1.Send us an inquiry and specify which share house you want to visit
2.Download Skype or Line
3.Exchange your contact on Line or Skype before the visit
4.Connect to the application on the time and date scheduled
Our staff will wait in the living room of the share house you are supposed to visit!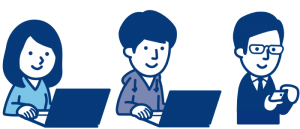 Online visiting details
1.Introducing yourself
Show clearly your face in front of the camera and declare your full name, age and phone number.
2.Online viewing
The staff will show you on camera the house.
Please do not record the video to preserve the privacy of the people living caught on camera.
3.Check in procedure
In case of check in application, we will provide you the informations about initial fees and procedures.
4.Q&A section

For further informations don't esitate to contact us.
Let's give it a try !!
使用画像:イラストAC