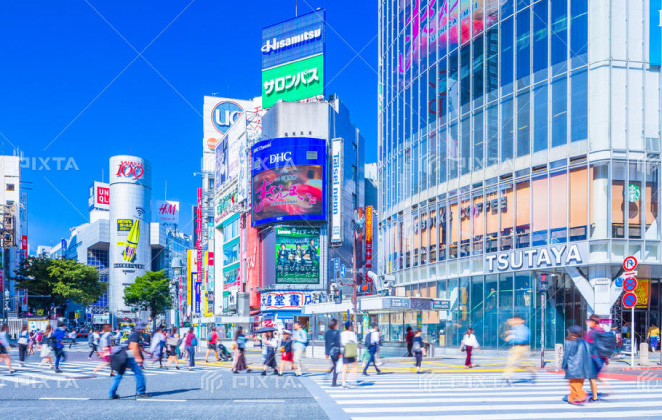 Access Asakusa station in 20 mins only, you shouldn't miss!
Click here for properties in the ASAKUSA area
An area full of downtown atmosphere that knows the
present and the past of Tokyo
ASAKUSA
Tokyo Asakusa is famous as a tourist destination that represents Japan. It is a very popular area not only for domestic tourists but also for foreign tourists visiting Japan. There are spots where you can feel nostalgia, such as the old shopping streets and Asakusa Hanayashiki, and there are also newly born spots such as the Tokyo Sky Tree. Asakusa is an area that can be enjoyed by men and women of all ages.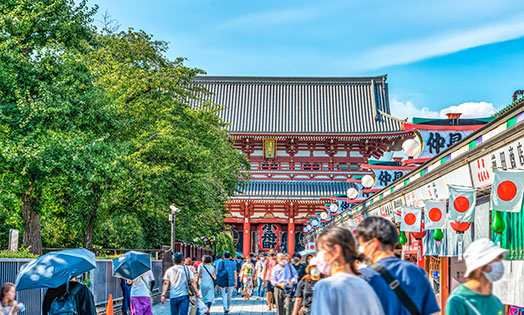 01 Asakusa`s symbol
Look for the big red lantern
The entrance to Sensoji Temple
"Kaminarimon"
The cityscape with a downtown atmosphere is a good old Japanese tradition. The symbol of the Asakusa area is the Kaminarimon Gate, which is the main gate of Sensoji Temple. The appearance of the lantern hung in the center is famous not only in Japan but also in the world. After passing through the Kaminarimon Gate and passing straight through Nakamise Dori, you will be greeted by the main hall of Sensoji Temple.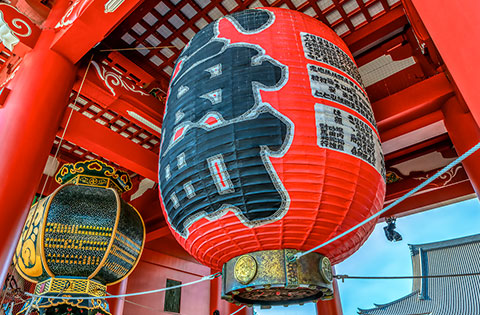 02The largest shopping street in Asakusa
A lovely shopping street and
the Nakamise Street leading to
Sensoji Temple
The arcade shopping street of about 380m is called "New Nakamise Shopping Street". While Nakamise Street continues from Edo, the new Nakamise Shopping Street is called this because it developed in the Showa era, and many stores such as souvenir shops and restaurants are lined up, especially Anmitsu. It is famous for its sweets such as yazenzai. One of the attractions is that you can enjoy shutter art early in the morning and after the evening.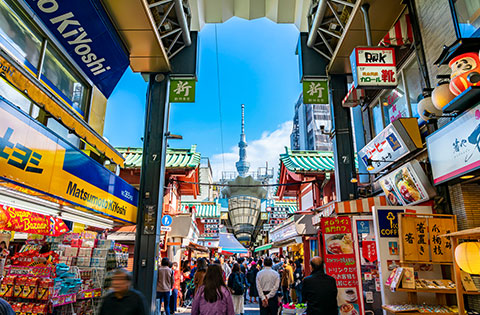 03A perfect fusion of uptown and downtown culture
The " new downtown "is a perfect
fusion of innovation and
downtown culture.
Tokyo Sky Tree became a new landmark as the tallest in Japan in 2012. And Tokyo Solamachi opened in line with the opening of the business. With the theme of "new downtown", it is a large-scale commercial facility that provides a space where you can feel Japan, which is a fusion of uptown and downtown culture, and is gaining popularity not only in Japan but also overseas. You can walk from Asakusa, so it's a perfect course for a walk.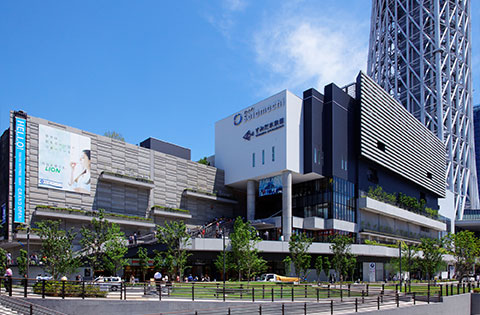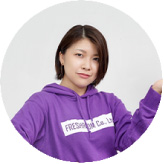 ODA
Staff recommendations!
Staff recommendations!
Asakusa is often thought of as a tourist destination such as the retro Sensoji Temple, but you can go anywhere unexpectedly, such as the Tokyo Metro Ginza Line, which can easily bring you to Shibuya, and the Airport Limited Express, which can go to Haneda Airport. It's a convenient place.
For those who like the convenience of modern Tokyo and the traditions of the old Japan, while discovering new places every day, we suggest to come visiting us in our property!!!